Thinking of
Letting your property?
Whether you are a first time landlord with one property who is unfamiliar with the legal and safety requirements and paperwork involved or a professional landlord with a large portfolio of properties, we have a wealth of experience in letting properties around North London and can help you.
Our strong understanding of the local market and years of experience coupled with our extensive database of professional tenants ensures we are in a position to be able to successfully let your property while delivering an excellent level of customer service.
Our proactive team are focused to ensure you achieve the best market rent for your property and minimise any void periods. Communication is paramount to us and we will keep you completely up to date throughout the entire lettings process.
Why choose
Adam Hayes?
Independently run local business.
Prominently located computer linked offices in North Finchley and East Finchley.
Lines open 24/7.
Directors on the front line.
Immediate exposure to our existing large database of tenants including Multi-National Blue-Chip Companies and Embassies of Foreign Governments.
Advertisement on some of the country's largest property websites including Rightmove, Zoopla, Gumtree, Primelocation and Findaproperty.
Have your property marketed in our community Newsletter delivered to 40,000 local homes.
Coloured floorplans available.
High quality photography.
Guaranteed feedback within 24 hours of every viewing.
Independent comprehensive referencing.
No long-term Sole Agency Agreements.
Pro-active, dedicated and experienced staff with local knowledge.
Comprehensive Full Management Service available tailored to client's needs.
Rent Guarantee Insurance available.
No long-term Sole Agency Agreements.
Members of The Property Ombudsman.
Our Expert Free Valuation
At a market appraisal, an experienced member of our Lettings team will visit your property to assess the rental value in the current market. We believe valuing a property accurately will help you achieve the best market rent for your property and avoid a vacant period. This is important to ensure you have the maximum chance of achieving the asking price to attract the right quality of tenant.
Opening Hours
We realize that living in London can be very demanding and appreciate that a large number of our applicants work during the day making it difficult to view properties during this time, therefore loosing potential opportunities. It is for this reason that we can arrange viewings 7 days a week and that our team are prepared to do late night viewings when necessary.
Unparalleled Customer Service and feedback
We pride ourselves on our exceptional customer service and communication. Our team works hard to ensure our clients receive the best possible service and we often tailor packages to suit different client's needs. We promise to give you honest feedback after every viewing and advise you on how you can achieve the maximum price within the minimum possible timescale. Working with our clients in partnership is very important to us.
Quality Tenants and Referencing Process
We have a large client base of potential tenant's registered with us and excellent contacts with private, blue chip companies and corporate tenants, local employers, embassies of foreign governments and many relocation companies.
Once a suitable tenant has been found for your property, we will apply for references including financial and credit checks, verify their employment status and where applicable contact any previous landlords. Each prospective tenant and guarantor if needed will normally undergo a comprehensive and vigorous referencing assessment via an independent referencing agency. Detailed referencing minimises any potential risk and maximises the opportunity to secure suitable tenants and maintain a stress free tenancy.
Marketing using the latest technology
Once we are instructed to market your property, our experienced negotiators will automatically match your property to our extensive tenant database using the latest state of the art software package. Each potential tenant will then be called, sent an email or posted full details of your property. We know our prospective tenants requirements, so we don't wait for them to ring us, we call them first. We are very proactive and will always have tenants lined up and in many cases even prior to your free market appraisal.
Advertising
You can rest assured that your property will be advertised extensively and you will automatically benefit from our comprehensive marketing package. We cut no corners when it comes to marketing. We invest heavily in to ensure your property gains maximum exposure, minimising the time in which your property remains empty and maximising your profits.
Online Advertisement
Over 95% of tenants use the internet to find their next home. To ensure full marketing coverage, we advertise our properties on Rightmove, Zoopla, Prime Location, Gumtree and Find a Property giving us an advantage over our competitors. Rightmove, Zoopla and Gumtree have a combed 200 million searches between them every month.
We will advertise your property on all three portals as well as our own website, giving your property maximum exposure to reach the widest audience.
Over 120,000 properties in London were added between January & June 2017.
Rightmove attracts 127.5 million visits per month,Zoopla attracts over 50 million visits per month and Prime location attracts 5 million visits per month.
---
Website
Our user friendly website allows potential tenants the ability to search through our properties at their convenience and as well as viewing a virtual tour of your property. Potential tenants are able to register their details and connect with our social media channels through our website.
Our property pages display colour floorplans, virtual tours, video tours and specific local information highlighting amenities and schooling, together with the Ofsted reports for those local schools as well. Our 'Draw a Search' tool allows our tenants to draw their own tailored search area to enable them to find properties within the area. Our Blog Page and Area Guides also provides customers with very useful local information.
We are also proud to display our client's reviews so prospective tenants can see how we work and feel confident about choosing us.
Our website generates over 20,000 page views per month.
*Average figure based on July 2017
---
Social Media
We use social media as an effective tool to generate interest for your property.
---
Online Magazine and Newsletter
We have an online magazine which is emailed every month to all our customers keeping them up to date with news relating to the property market, the local area and useful information about our services. We find this a very unique marketing tool.
Newsletters
Weproduce 20,000 glossy newsletters every quarter which are hand delivered to local homes in the area showcasing our properties.
The newsletters is a fantastic tool to give your property more exposure to local tenants who are looking to rent in the area.
In our newsletter we aim to update and inform readers on local issues in the community and advise our readers on property related news, including advice relating to property investment.
---
Professional Photography
To attract good quality tenants, we take our photography and marketing very seriously and understand the importance of creating a good first impression. We have invested in the latest professional photography equipment enabling us to take exceptional photos of our properties.
Taking a high resolution, professional photograph is one of our most important priorities.
Video
We understand the importance of using Video in our marketing campaigns. Professional tenants are using and watching videos as a method of communication more and more frequently, as most people have a video on their smartphone. Property videos are the next best thing to a real-life viewing and complement our 360 degree virtual tours and existing photos to help build engagement and interest amongst web visitors.
---
Colour Floorplans
We use these to illustrate layouts of our properties and present them on all our marketing material when promoting your property with us.
360 Degree Virtual Tours
Each of our properties benefit from a high quality virtual tour, which our tenants love. Virtual tours assist tenants to view the property virtually and gives them a feel for what it offers before they physical visit. As a result, our viewing-to-offer ratio has improved dramatically as prospective tenants have more information and are able to make decisions quicker.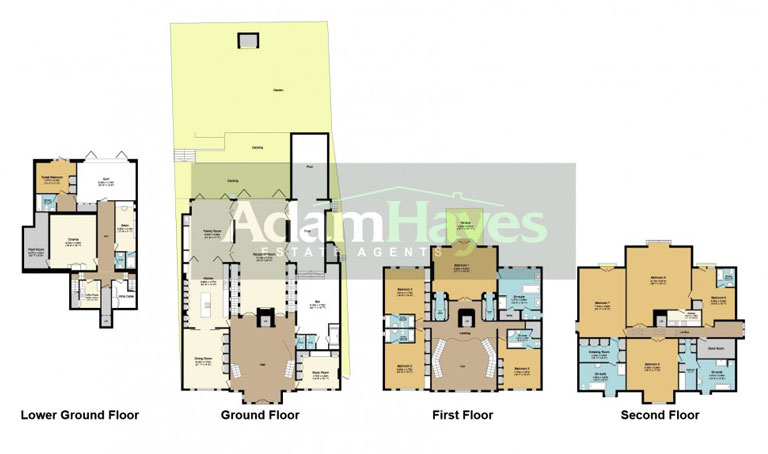 If you would like to know how much your property could be worth in the current market please contact our office and a member of our team will assist you.
For full details of our Let Only, Rent Collection and Full Management Services including fees, renewals and landlords obligations please see our Terms of Business, available upon request.
Please click here for Landlord Fees.