Our Sales
Service
With a combined experience of over 40 years in the property industry, staff at Adam Hayes will make every effort to provide you with the very best in customer service, ensuring that you receive quality advice and the highest level of professionalism at all times.
Why choose Adam Hayes?
Independently run
Three Local offices
Lines open 24/7
No Long term contracts
Prominently located interlinked offices in North Finchley, East Finchley & Finchley Central
Colour floorplans
Accompanied viewings by our pro-active, dedicated and experienced staff
Vendor feedback guaranteed
Professional quality photography
Extensive advertising on all major leading property portals including Rightmove, Zoopla, OnTheMarket & Boomin
Advertising in our Community Newsletter and Online Magazine
360 degree Virtual Tours & Videos
Immediate exposure to our existing large client database of potential buyers
We treat each property individually, not just as another property market statistic
We monitor the sale of your home from start to finish ensuring a stress free transaction for all concerned
Members of the Property Ombudsman
Members of the NAEA
Multo Award Winning
Experienced Team of Negotiators
Our expert valuation
An experienced member of our Sales team will visit your property to assess the value in the current market. We believe valuing a property accurately will help you achieve the best market value for your property and ensure your property is sold within an adequate period of time. We are happy to provide comparable evidence of similar properties that have been sold or are currently on the market if required.
Lines Open 24/7
We realize that living in London can be very demanding and appreciate that a large number of our applicants work during the day making it difficult to view properties during this time, therefore loosing potential opportunities.
It is for this reason that we can arrange viewings 7 days a week and that our team are prepared to do late night viewings when necessary. By being flexible in allowing late night viewings and arranging viewings on Sundays, we have found that a large percentage of our business comes directly as a result of these often "out of hours" times.
All our offices give an all-round service where we contactable any day of the week with our lines being open 24 hours a day. This way we can always be available to our clients, insuring going the extra mile is always accomplished.
Unparalleled Customer Service
We pride ourselves on our exceptional customer service and communication. Our team works hard to ensure our clients receive the best possible service with us while we aim to be the leading property provider in North London. We promise to give you honest feedback after every viewing and advise you on how you can achieve the maximum price within the minimum possible timescale.
Advertising
Online Advertisement
To ensure full marketing coverage, we advertise our properties on Rightmove, Zoopla and Prime location, giving us an advantage over our competitors. Over 95% of buyers use the internet to find their next home. We advertise on the portals of Rightmove, Zoopla and Prime Location; combining approximately 200 million searches between them every month. We will advertise your property on all three as well as our own, giving your property maximum exposure to reach the widest audience.
Over 120,000 properties for sale in London were added between January & June 2017. Rightmove attracts 127.5 million visits per month, Zoopla attracts over 50 million visits per month and Prime location attracts 5 million visits per month.
Website
Our user friendly website allows potential buyers the ability, clients are able to search through our properties at their convenience and as well as see a virtual tour of your home.
Potential buyers are able to register their details and connect with our social media channels through the website.
We understand the importance of engaging with our customers on social media we have responded to this by linking all our social media channels on our homepage including live feeds on both our Twitter and Facebook pages so our buyers can communicate with us instantly.
Our 'Draw a Search' tool allows our buyers and tenants to draw their own tailored search area to enable them to find properties within the area. We are proud to display our client reviews where prospective sellers can see how we work and feel confident about working with us.
---
Online Magazine and Newsletter
We have an online magazine which is emailed every month to our current clients including landlords and tenants keeping them up to date with news on the property market and making them aware of any opportunities and further services available to them. We find this a very unique marketing tool as we are able to reach clients and potential clients in the comfort of their home.
Newsletters
We produce 20,000 glossy newsletters every quarter which are hand delivered to local homes in the area showcasing our properties.
The newsletters is a fantastic tool to give your property more exposure to local buyers who tend to buy for either themselves or investment purposes.
In our newsletter we aim to update and inform readers on local issues in the community and advise our readers on property related issues, including advice relating to property purchases.
---
Boards
Our attractive and very distinctive boards are a brilliant and important way of generating high quality enquiries, particularly attracting buyers looking for properties in specific roads or areas.
The boards have been purposely designed to complement our marketing and branding strategy.
Social Media
We use social media as an effective tool to generate interest for your property.
---
Marketing Your Property
When you market your home with Adam Hayes you can rest assured that it will be advertised extensively and your property will automatically benefit from our comprehensive marketing package. We cut no corners when it comes to marketing, we invest heavily in marketing to ensure your property gains maximum exposure, we advertise on our own website and on a majority of the UK's largest and most popular property portals.
---
Professional Photography
We take our photography and marketing seriously and understand the importance of creating a good first impression. We have invested in the latest professional photography equipment enabling us to take exceptional photos of our properties providing consistency which has provided us with fulfilling our full marketing potential. Taking a high resolution, professional photograph is one of our highest priorities.
Video
We understand the importance of using Video in our marketing campaigns. Our buyers are deeply familiar with video as most people have a video on their smartphone. They are the next best thing to a real-life viewing and complement our 360 degree virtual tours and existing photos to help build engagement and interest amongst web visitors. Providing a video avoids unnecessary viewings and is the perfect aid for attracting buyers from further afield and foreign investors.
---
Colour Floorplans
We use these to illustrate layouts of our properties and present them on all our marketing material when promoting your property with us.
LED Window Displays
Having LED displays at both of our North and East Finchley offices is an eye-catching and attention grabbing feature that ensures potential buyers see your property and visualise their new dream home. Our displays light up in the evenings, therefore passers-by instantly notice it. We ensure we use professional HD quality photographs in the display as this is a highly effective way of generating interest.
360 Degree Virtual Tours
Each of our properties benefits from a high quality virtual tour, which our buyers love. Virtual tours have helped us sell properties as well as make it easy for buyers to view virtually. Because buyers have a good idea of the property before they physical visit, our viewing-to-offer ratio has improved dramatically. As we don't "embellish" our tours, buyers are less likely to be disappointed by some aspect of reality when they actually view.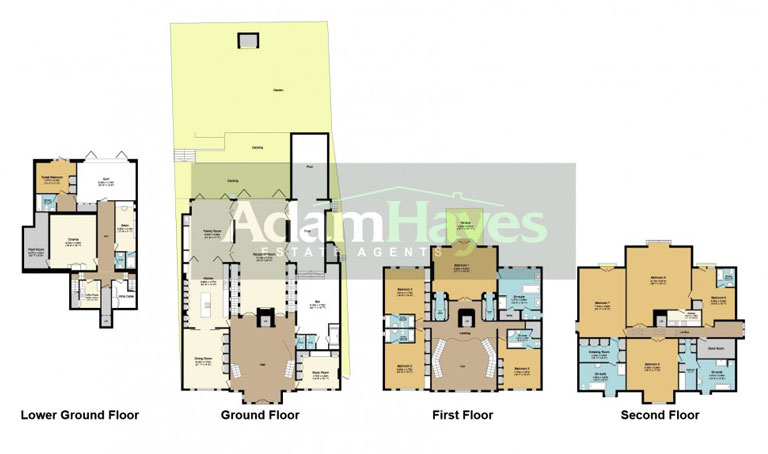 Adam Hayes are regulated by The Property Ombudsman and follow a strict code of conduct approved by the Office of Fair Trading, providing sellers, buyers, landlords and tenants with an assurance that they will receive the highest level of customer service